Food Menu
From traditional bar appetizers to our mouth-watering burgers, our menu isn't short on flavor. Grill Closes at 12:30 AM, Fryer @ 1:00 AM.
Appetizers
Taco Tip Fries - $9.00
Chicken or beef tips over a bed of crispy fries, smothered in queso, jalapeno ranch, and pico de gallo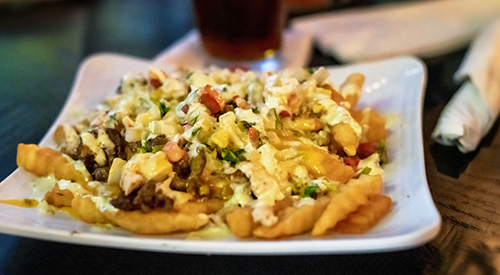 Avocado Bites - $6.00
Fresh avocado, lightly-breaded, golden-fried, and served with our house jalapeno ranch
Mini Corn Dogs - $6.50
Served with your choice of dipping sauce
Texas Craft Brew Queso, Chips and Salsa - $8.00
A trio of delectable beginnings and classic Texas favorites
Chicken Wings - $8.00
A classic! Choose BBQ, Red Hot, or naked
Cheese Sticks - $6.00
Mozzarella cheese fried in a light, crispy golden batter, and served with marinara sauce
Santa Fe Egg Rolls - $7.00
Filled with chicken, corn, black beans and chopped peppers for an authentic southwestern flavor and served with jalapeno ranch
Sample Platter - $11.00
2 mozzarella sticks, 4 avocado bites, 3 mini corn dogs, 1 Santa Fe egg roll, and fries (no subs)
Entrees
Quesadillas Your Way - $7.00
Choose queso, chicken or beef, served with a side of salsa and sour cream
Wrap - $7.75
Choose BLT, crispy chicken, or grilled chicken. Served with fries
Chicken Sandwich - $8.00
Original or Buffalo. Served with fries
EinStein's Burger - $9.50
Beef patty, cheddar, lettuce, tomato, onion, pickles on a brioche bun, comes with fries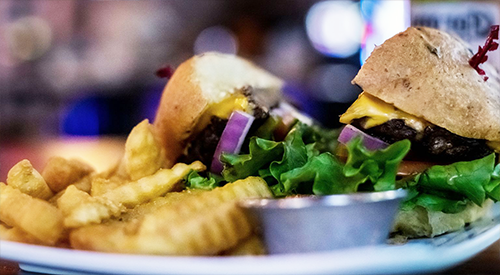 Aliana Blue Burger - $10.50
Beef patty, blue cheese, crispy bacon, lettuce, tomato, onion, pickle on a brioche bun, comes with fries
Chicken Bacon Salad - $11.00
Crispy or grilled chicken served over a bed of mixed greens, cherry tomatoes, shredded cheddar, topped with crispy bacon pieces and your choice of dressing.
Loaded Tacos - $9.00
2 flour tortillas, hand-breaded avocado, queso, pico de gallo, with your choice of chicken or beef. Salsa or sour cream on the side
Crispy Chicken Strips - $8.50
A true crowd pleaser! Served with fries
Hot Dog - $4.75
Choose from mustard, mayo, ketchup, onions, relish. Cheese - extra $.50. Served with fries
Kid's Menu (served until 7 p.m.)
Crispy Chicken Strips - $4.75
Served with fries and choice of sauce
Quesadillas Your Way - $4.00
Choose queso, chicken or beef, served with a side of salsa and sour cream and fries
Mini Corn Dogs - $4.00
Served with fries and choice of sauce
Macaroni & Cheese - $3.50
Hot Dog - $4.75
Choose from mustard, mayo, ketchup, onions, relish. Cheese - extra $.50. Served with fries
Specials
Taco-Rita-Rona Tuesdays
Two Loaded Tacos $5, Houserita $4, Corona $3.50
$5 Hamburger with Fries
Delicious burger w/ our crinkle-cut fries